The Development Industry Advisory Council (DIAC) supports the Master of Land and Property Development (MLPD) program within the School of Architecture's Department of Landscape Architecture and Urban Planning.
DIAC members participate in program management, fund scholarships, and provide guidance to students. With a DIAC membership, you'll have priority access to our outstanding current students and graduates. Upon graduation, MLPD students are gifted an annual membership to DIAC so that they have the opportunity to continue their engagement with MLPD, the University and carry on the Spirit of Aggieland.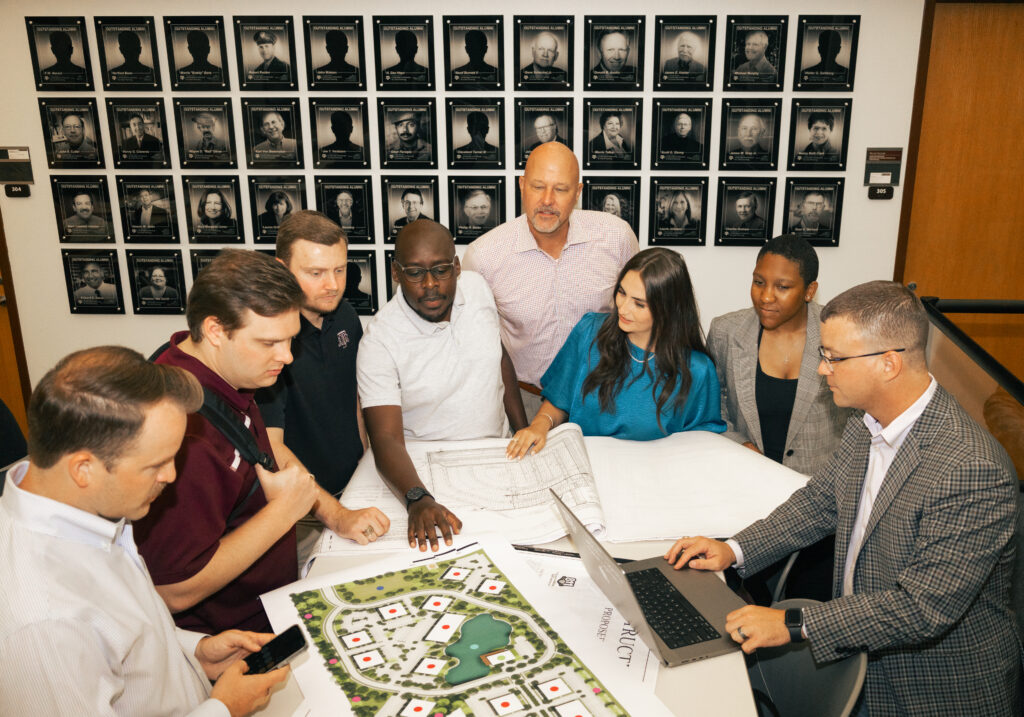 DIAC Goals and Objectives
Increase on-going real-world learning. Engagement, and connections between students, faculty, and industry.
Fund student events and participation in industry organizations (e.g., ULI, NAIOP, CCIM, etc.).
Promote the MLPD program nationally and internationally.
Seek industry feedback to ensure students are acquiring skills to be successful in the development / real estate industry.
Increase internship and employment opportunities for students.
Establish sustainable funding for the MLPD program and students through the establishment of endowments.
Become a Member
Help mentor and inspire the land and property development professionals of tomorrow by joining DIAC today. There are two types of membership: Individual Membership & Corporate Membership
Benefits
Engage and connect with our students.
Attend Development Industry Advisory Council meetings.
Share real-world industry feedback to enhance student engagement and learning.
MLPD Curriculum Review
Invitation to resume workshop
First release version of MLPD resume book
Speaking opportunities in classes and student-led organizations.
Host student-led MLPD organization events and project site visits.
Corporate sponsorship opportunities with exposure on tamu.arch.edu
Endowment opportunities designed to provide sustainable funding allowing the program to fund student scholarships
Join the Development Industry Advisory Council
DIAC Leadership
Ryan Day, VP – Land Acquisition, Meritage Homes – President
Jack Rowe, Director of Land Development, Taylor Morrison – Vice President
Alexa Russ, Senior Land Manager, Empire Communities – Secretary
B.K. Newsom, VP, CBRE – Treasurer
Membership in Action
The DIAC's Executive Board, committees and members meet throughout the year in order to plan opportunities for MLPD students to connect with industry, advise/update the Department as to industry trends, and grow their Aggie network.
Upcoming Important Dates and Events
| | |
| --- | --- |
| Date | Event |
| August 25 | DIAC Summer Meeting |
| September 7 | ULI Houston Sporting Clays Tournament |
| October 7 | Tailgate-BTHO Alabama Game |
| October 13 | DIAC Fall Meeting |
| February 14-15 | DIAC/MLPD Resume Workshop & Career Fair |
| February 15 | DIAC Winter Meeting |
| April 5 | DIAC Spring Meeting |
| May | Houston MLPD Happy Hour |
Development Industry Advisory Council Event Calendar
Support the DIAC
Give to the Kent Anderson Endowed Scholarship
Contact Information
Email the DIAC team at: diac@tamu.edu